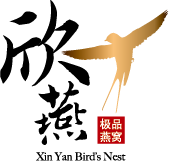 100g Dried Bird's Nest
Sold Out
Overview:
Enjoy a discount when you order in a 100g box!
Ladies:
Improves metabolism and frequent consumption results in young, radiant and fairer skin.

Infants/Children:
Enhances immune system, promotes brain and organ development, improves digestion and absorption of nutrients.

Pregnant Women:
Consumption will improve immune functions of the fetus and reduce physical discomfort.

Elders:
Clears phlegm, strengthens lungs, kidneys, spleen and enhances appetite. Contains antioxidant benefits - essential to achieving anti-aging effects.

New Mothers:
Eating bird's nest will help speed up recovery after giving birth.

Smokers:
Nourishes lungs, clears phlegm, and stops coughing.
---
---
---
Pin It